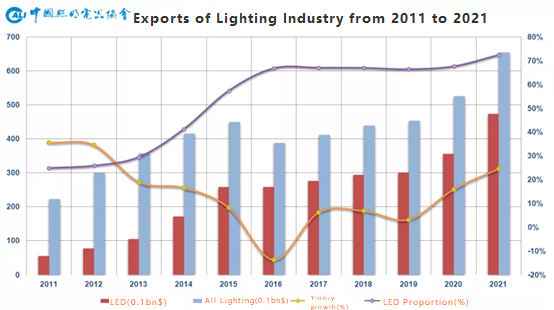 Thanks to the government's policies and measures of "stabilizing foreign trade and promoting innovation", China's lighting industry still reflects strong resilience and growth potential in 2021, even under the continuous series impact of the COVD-19 and the increasingly complex external environment.
In 2021, the total export volume of the whole industry reached 65.470 billion US dollars, an increase of 24.50% year-on-year, an increase of 44.09% over 2019, and the average growth rate of the two years reached 12.95%. The export of LED lighting products was 47.445 billion US dollars, an increase of 33.33% year-on-year, an increase of 57.33% over 2019, and an average growth rate of 16.31% in two years. The share of total exports has also risen from 25% 10 years ago to more than 70% today. The total export of lighting products and the export of LED lighting products have once again refreshed the historical record after 2020.
The Corona Virus brought many difficulties to the lighting industry for both the supply and demand, but the total exports still increased. Countless facts and data in the past have stated that China's lighting industry is a global industry, which is related to the national economy and people's livelihood. China's position, as the manufacturing center and supply chain hub of the global lighting industry, has been further consolidated during the epidemic. New concepts such as intelligence, health, design, and low carbon have given more added value and imagination to the lighting industry.
Because of the policy supported by local government and the efforts by all colleagues, E-Lite Semiconductor also achieved a great sales success. E-Lite's LED industrial lighting such as the LED flood light, LED street light, LED high bay light and LED grow light were sold very well, especially the UFO high bay light and high temperature heavy duty light were highly welcomed by many customers all over the world. Congratulations!
Under the background of the transformation of the whole lighting industry from scale growth to high-quality development, the industry should be guided by the core strength of market demand, driven by scientific and technological innovation, and based on an efficient and safe modern supply chain system, and gradually enter to the high-quality development range.
The German philosopher Albert Schweizer said, "We look to the future with concern, but we still need to be hopeful." Sincerely look forward to 2022.
Heidi Wang
E-Lite Semiconductor Co., Ltd.
Mobile&WhatsApp: +86 15928567967 
Email: sales12@elitesemicon.com
Web: www.elitesemicon.com
---
Post time: Feb-25-2022